iPad Paperless Workflow for Educators
Distribute, Submit, Grade and Return Assignments
Teachers and students can create a paperless workflow with iPads and Google Drive. Teachers and students will need gmail accounts. iPads will use the Google Drive app (free). Teachers and students will share folders with each other. Teachers will share a folder with students to give them access to assignments and other materials. Each student will share a folder with the teacher. The students will submit their completed assignments in this shared folder for the teacher to access for grading.
A) Initial Setup
To get started you need to have a few things setup:
1) Students need Gmail accounts.
2) Students create and share a folder with the teacher.
3) Teacher creates a class folder with subfolders as necessary.
4) Teacher creates a shared materials folder.
B) iPad Paperless Workflow - How it Works
1) Teachers place assignments in the folder they shared with students.
2) Students use Google Drive app to access assignments in the shared folder.
3) Students place completed assignments in the folder they shared with the teacher.
4) Teachers grade, annotate, and return assignments to student's shared folder.
---

Setup Student Gmails
Students will need a Gmail account. Schools can setup Google Apps for Education (GAFE) Gmail accounts for free. If necessary, GAFE admins can disable the Gmail app. This might be appropriate in a K-5 school setting for security and privacy. Students will still be able to use their school Gmail address to login and use Google Docs. However, they will not be able to send and receive emails if the GMAIL app is disabled.

In the example below: students can use Contacts, Drive and Docs and Google Calendar. The Gmail apps is off, so students cannot send or receive emails.
Each Student Creates and Shares a Folder with the Teacher
Benjamin S.

Students login to their Google Drive account and create a folder. They name the folder using their first name and last initial. Example: "Benjamin S."

Students share the folder with their teacher and give the teacher permissions to "Edit"

Students will place all of their completed assignments in this shared folder. The teacher will be able to login to their own account and see all of the folders that each student has shared with them. Teachers will be able to view and edit files in each student's shared folder.

In the example below: Benjamin S. has shared his folder with his teacher:
Teacher Creates a Class Folder with Subfolders
The teacher also needs a gmail account. In Google Drive, the teacher creates a class folder, "Tech Class" or whatever name is appropriate for the class being taught. Teacher adds subfolders as necessary such as "3rd Grade Tech", "4th Grade Tech", or "1st Period", "2nd Period", etc.

The teacher moves all the folders students have shared with her into the folders she has created for her classes.. When students submit their assignments to their own shared folders, the teacher can go to her class folders to grade their assignments.

In the example below: Teacher has moved all the folders shared by the 5th graders into her 5th Grade Tech subfolder.
Teacher Creates a Shared Folder to Share Materials with Students
The teacher creates and shares a folder with the students for accessing assignments and materials. She specifies which students will have access by adding their email addresses to the list of people with permission to access the folder's contents. She sets the folder access permissions to allow students to view but not edit the documents.

In the example below: Teacher has created the shared materials folder "Tech Assignments" and placed some assignments in it. Students with access will be able to view this shared folder and the assignments on their computers and iPads.
---

Teacher Distributes Assignment
In order to distribute assignments and materials, the teacher simply places them in her shared "Tech Assignments" folder.
Students login to Google Drive on their iPad, tap "Shared with me" and then choose the assignment they wish to view.
Student Submits Assignment
1) iPad Apps such as iWork allow students to open Google Drive and upload their assignment. When students are ready to share and print, they can choose to "Open in Another App" and select the Google Drive app. Students can then upload their work to their Google Drive account.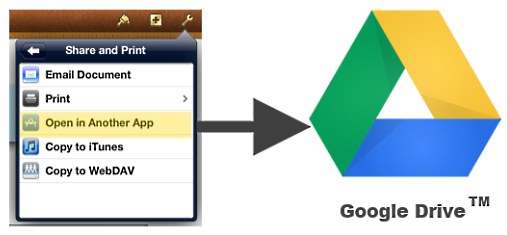 2) Students can go directly to the Google Drive App on the iPad to create a new document, new spreadsheet, new folder, and upload photos or videos. This is a good way to upload those iMovie video files that are too large for emailing.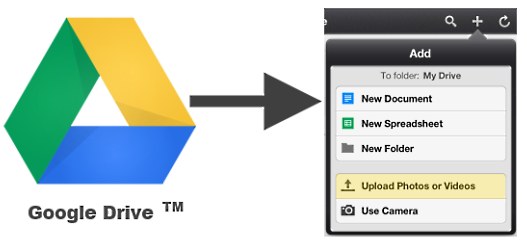 3) Students must give the teacher access to the file for grading by moving their uploaded assignment to the folder they previously shared with the teacher. Students can use the Google Drive App to move the file(s).
In the example below: A student named Nour E. has just uploaded the file "Native Americans". The file is in the root of her "My Drive" directory. To submit her assignment to the teacher for grading, Nour must move her completed assignment to the "Nour E" folder above. That folder has been previously shared by Nour with her teacher who can view and edit files in the Nour E folder.
To move the "Native Americans" file, Nour taps the arrow next to the file. She can then choose to move it to the Nour E folder. Once the file has been moved, Nour is done submitting her assignment for grading.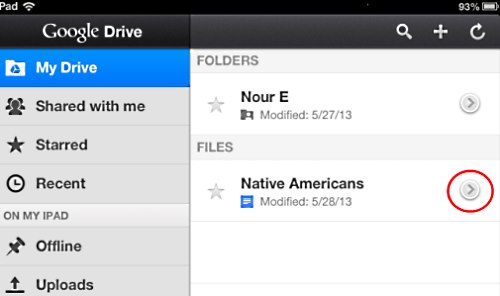 Teacher Grades Student Assignments
The teacher logs into her Google Drive account and views the collection of her students' submitted assignments. To take advantage of all of the Google Drive functionality for file management and editing, the teacher accesses Google Drive with a browser on a computer or laptop.

In the example below: The teacher is viewing Zack B's submitted assignment.
Teachers can add grades to the document header of the file. Teachers can also insert comments by selecting desired text and using Insert > Comments in the menu bar.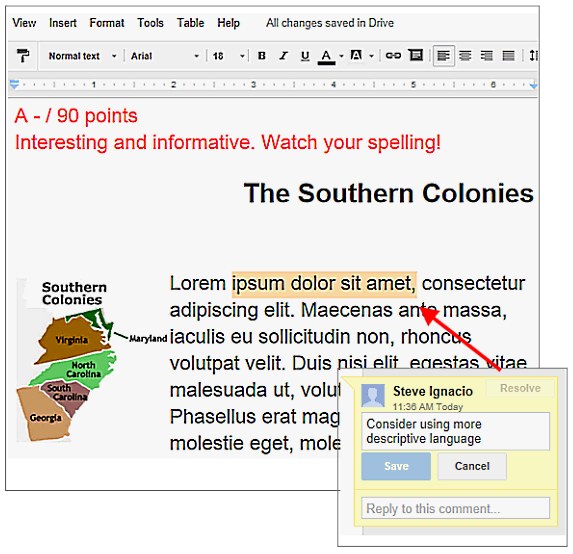 Returning Assignments
Teachers return asssignments by renaming the student's graded assignment by adding the word "Graded" in front of the document's title. The renamed file remains in the student's shared folder where they can access and review their graded work. Teachers may make and save a copy for their records.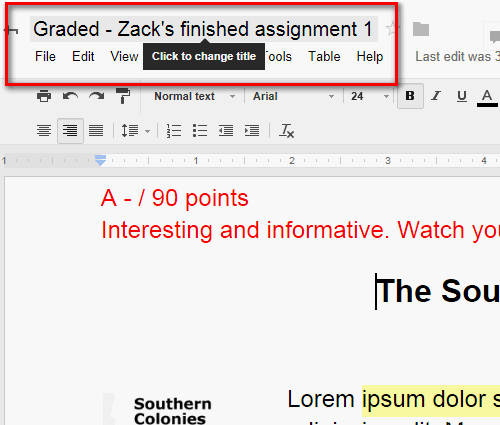 Done! Teachers and students can use the iPad with Google Drive to create a paperless workflow that will work on computers, iPads and other computing devices with internet access.
Embeddable iPad Paperless Workflow InfoGrapic for your site here: