Labor Day Activity - Uniform Graph
Students Make a Uniform Graph for the Labor Day Holiday
Labor day is a special day to honor workers and their contributions to the community. Some workers wear special uniforms for their jobs. Police officers and nurses wear special uniforms so people will know who they are and what their jobs are. Some people, like teachers do not wear special uniforms for their jobs. Have children think about people who wear special clothes for their jobs and some who do not.
Have students open the uniform graph template in MS Word. Students will search for and insert pictures into the "Uniforms" and "No Uniforms" columns to compare the number of people who wear uniforms with the number of people who do not wear uniforms. Students save and print their work.
This activity integrates technology into Social Studies.
Grade 2 and up
Labor Day Uniform Graph Activity - Finished Example
Students place their cursor in a box and insert clipart.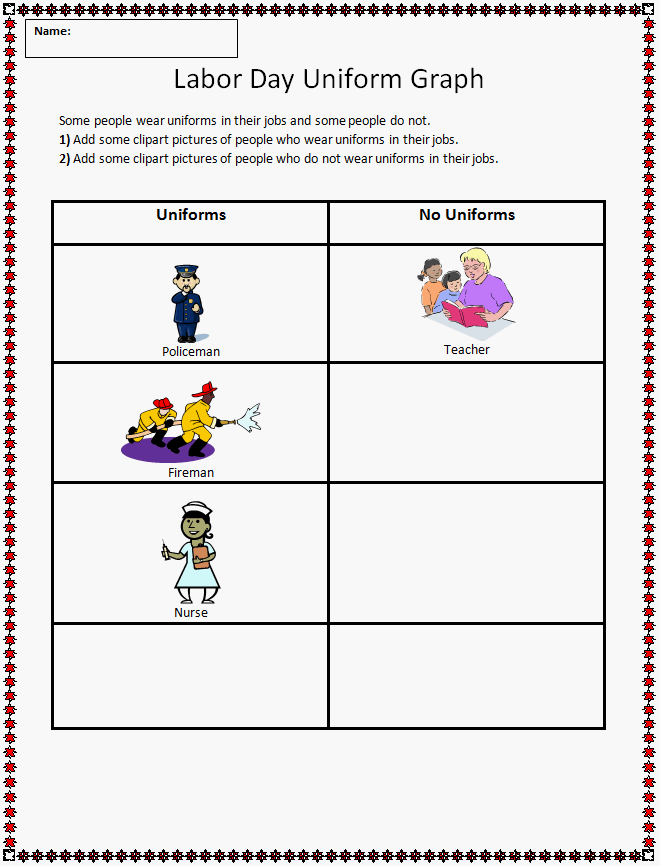 Student Uniform Graph Template Download
Download: labor-day-uniform-graph-activity-template.docx