Let's Create - Write an Ad as a Famous Singer
Students Use Their Creativity to Write an Ad as a Famous Singer for a Music Concert Event
Students pretend they are a famous singer. They create an advertisement using lively images and words about their music concert event to be held at their school.
Students use Microsoft Word to add Word Art, Clipart, Textboxes, Borders and text to create their famous singer music concert event advertisement.
Grade 2 and up.
Student Instructions:
Pretend you are a famous singer coming to sing at a music concert for your fans at your school.
1) Use Word Art to add a title announcing your music concert event. Use your name in the title.
2) Insert one or more clipart graphics about singing.
3) Insert a Text Box and write the music concert event admission times and ticket prices.
4) Write the details of What, When, and Where using lively words.
5) Add your own creative and exciting information.
6) Add a fun border to your ad.
7) Print your ad.
Download Student Instructions: lets-create-famous-singer-music-concert-student-handout.docx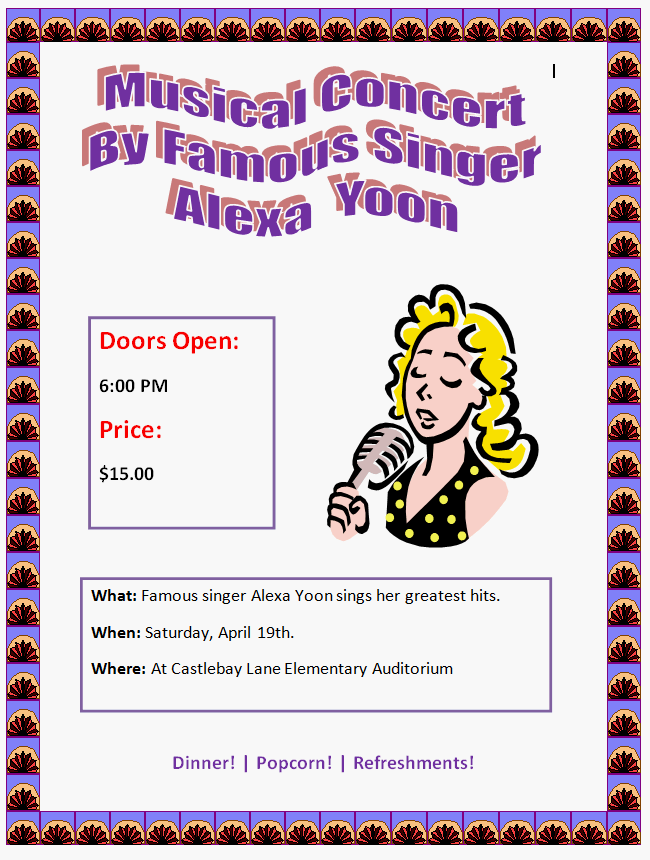 More Ideas
For PC's and Microsoft Office