iPad Numbers - Expense Chart - Quick Video Tutorial
How to Create a Basic Expense Chart with iPad Numbers Spreadsheet App
This video shows you how to create a basic expense spreadsheet and chart like the one shown below.
You will learn:
1) How to merge the title across cells.
2) How to use the "SUM" function to calculate a total of numbers in a column.
3) How to format numbers with dollar signs.
4) How to create a chart.
---
Finished Example: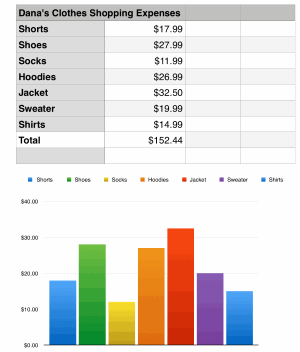 ---
iPad iWork Numbers Expense Chart Video Tutorial - Time = 2:18
Ideas
for iPads / Mac / iWork