How to Remove Picture Backgrounds
Students Learn to Remove Backgrounds from Pictures
Students can remove backgrounds from pictures of themselves and then place themselves into different pictures.
For example, students can photograph themselves in front of a classroom wall or door, then use the magic wand to carefully remove the background. Saving the new image as a .png file will ensure that the background remains tranparent. Students can then use the picture to put themselves into interesting geographic locations such as space, underwater, volcanoes, different countries, etc.
The program used here is Paint.NET, a free paint program for Windows.
The magic wand works best with solid opaque colored backgrounds.
To remove more complex backgrounds, try using the eraser tool with the magic wand.
Free Download: Paint.NET
Here is an example of a finished graphic:
In this image, the boy and the animals have had their backgrounds removed. The moonwalk image was opened in Paint.NET and the boy, cat and geese images were added on top as layers.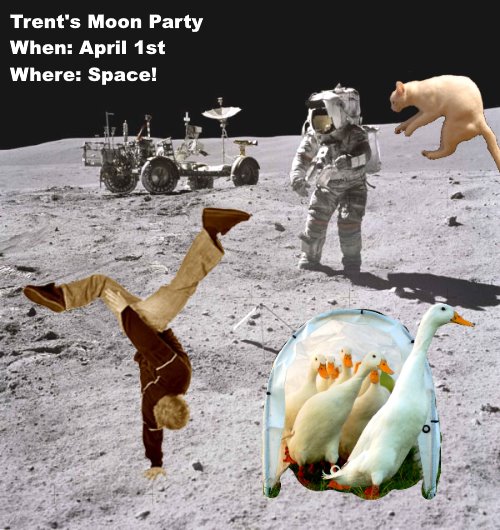 What you will need:
Paint.NET (Free graphics and paint program)
A fun background image like the moonscape above.
A foreground image with a plain, simple background for easy background removal.
Download: moon-party-pics.zip
Download: 4-step-moon-party-tutorial-using-paint-dot-net.pdf
Step One:
In Paint.NET, open the picture with the simple background. File > Open. On the Tools toolbar, click the magic wand tool.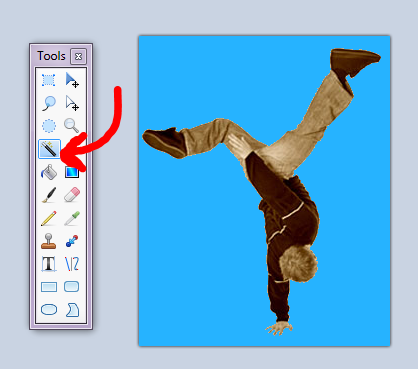 Step Two.
Click the magic wand tool on the blue background of the picture. Then click delete on your keyboard. It should remove all of the blue background. If needed, use the tolerance slider to get more or less of the background when you delete. The grey and white squares indicate that the background has been removed. Important: Save this image as a .png file. The portable network graphics file will allow you save the image with a transparent background. File > Save as > Save as type.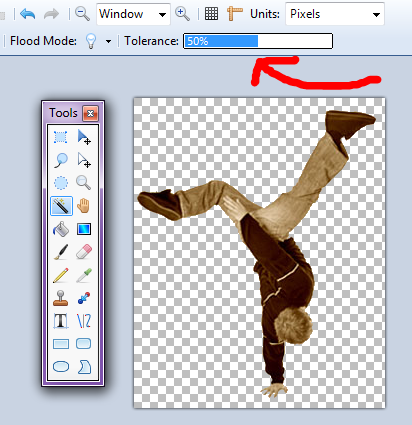 Step Three.
Open the background picture. File > Open.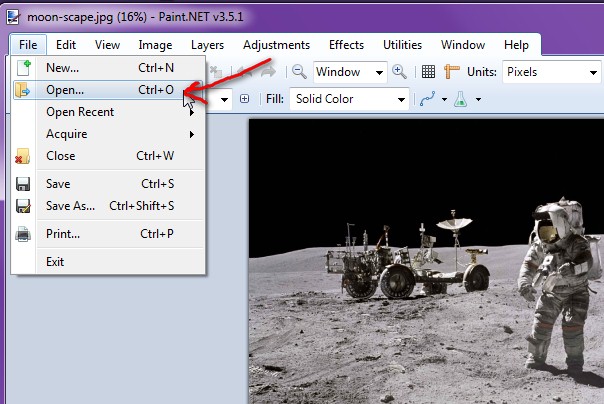 Step Four.
Import the image with the transparent background onto the background layer. Layers > Import From File.
Resize and position the image as necessary. When finished, Save the combined images as a .jpg file and choose to "flatten" the image before saving.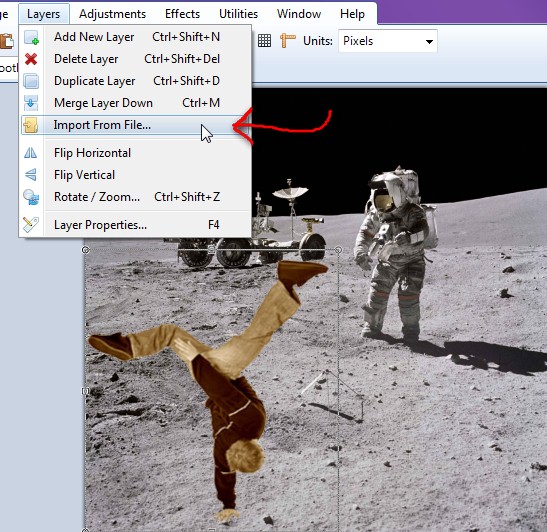 DONE!!!
For additional practice, remove the background with the dog catching frisbee picture. This image will require adjusting the tolerance slider and using the magic wand several times. Remove as much of the background as possible with the magic wand and finish up using the eraser tool.
Popular:
For PC's and Microsoft Office