"When I Am 100 Years Old" - Poem Generator
Write your own "When I am 100 Years Old Poem" by filling in the text boxes.
When you are finished, click the button at the bottom of the form to generate your poem. Copy and paste the results into a word processing program. Format it with the size and font style of your choice. Add clipart or pictures. Add your name and save / print.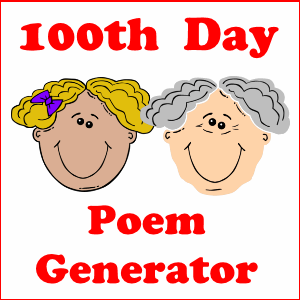 ---
Example:
When I am 100 Years Old
I will be happy
I will like old stuff.
I will wear comfortable clothes.
I will smell the flowers
I will eat lots of cake.
I will be friends with other old people
I will have lots of money
I will want to feed the ducks.
I will read lots of famous novels
I will play piano