iWork Numbers Spreadsheet - Temperature Chart
Students Create a Line Chart of Monthly Temperatures
Students research a world biome to find its average monthly high and low temperatures for one year and chart the results.
This lesson teaches students a variety of skills for spreadsheet creation including data entry and formatting, merging cells for the title (Tundra Biome Temperatures), autofill for the month, and line chart creation.
iWork Numbers Spreadsheet - Create a Line Chart Video Tutorial
This 2 minute video will show you step by step how to create the biome temperature line chart in iWork Numbers.
Instructions:
1) Students choose a biome to research for average high and low weather temperatures.
2) Students use iWorks Numbers to create a spreadsheet and chart of their data.
3) Create a title and use "merge cells" to format the title.
4) Enter the month "January" and use autofill to complete the remaining months.
5) Enter the high and low temperature data.
6) Create a line chart with a title and size and position the chart to print on a single page.
Line Chart Finished Example: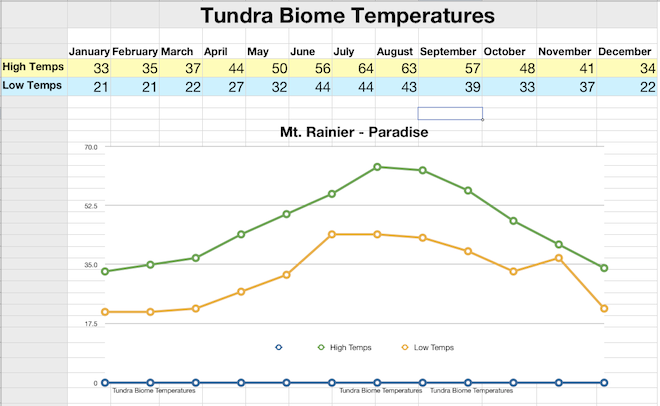 Popular:
For PC's and Microsoft Office