Excel Clothes Shopping Budget with Chart
Students Create and Format a Clothes Shopping Budget with a Chart
Students use a shopping list to purchase clothing to donate to needy children on a shopping trip.
Students have a gift card allowance of $150.00 to spend.
Students purchase as much as they can for one girl and one boy without going over the $150.00 budget.
Students enter their chosen clothing items and costs in a spreadsheet.
Students use the sum function to calculate total expenses from a column of values (clothing expenses).
Students use a simple formula to calculate money left over (allowance - total clothing expenses).
The instructions are for Microsoft Excel 2007 + version, but the data and chart can be recreated using any of the various Excel versions or even non Microsoft variants. Grades 4 and up
This lesson builds on the expense budget lessons by adding the following requirement:
Create a simple formula to subtract the total clothing expenses from the allowance.
Excel Shopping Budget with Chart Finished Example:
Download: clothes-shopping-budget-chart-example.xlsx
Clothes Shopping Price List
Download: clothes-shopping-price-list-20.pdf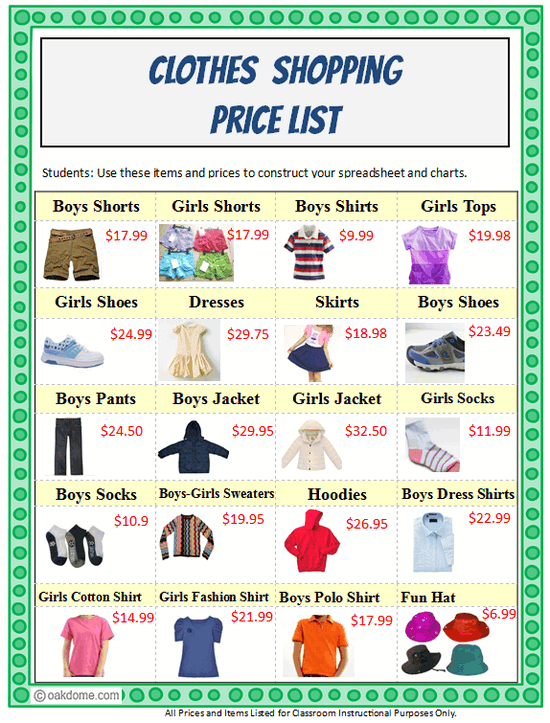 Alternate Version for Upper Elementary:
Requires Online Price Research
These are instructions for students to create the clothes shopping budget using real world pricing found online.
Download: clothes-shopping-spreadsheet-instructions-requires-price-research.docx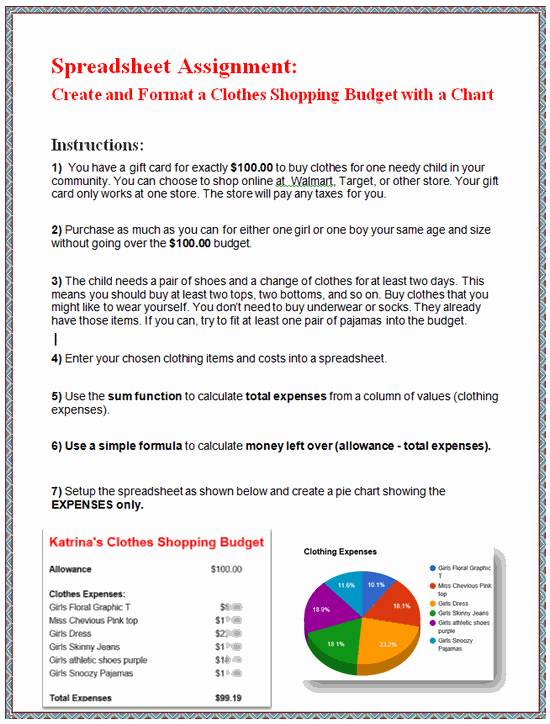 Excel Spreadsheet Rubric for Grading Assignments:
Download: rubric-for-spreadsheet-with-chart.pdf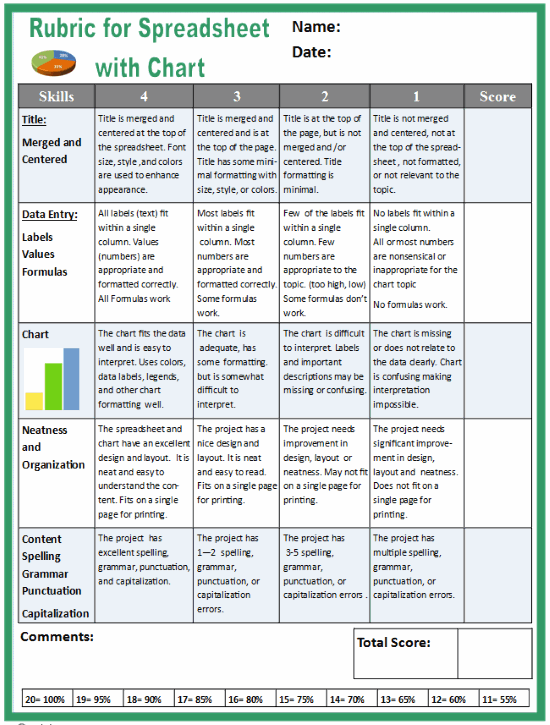 Popular:
For PC's and Microsoft Office