All About Me - iPad - Balloon Stickies
All About Me - Technology Integration - A Creative iPad Writing Activity
Students create an "All About Me" profile using an iPad app.
The app used here is the "Balloon Stickies Plus" free version. Students use the iPad's camera to take a picture of themselves or each other.
Students can add speech bubbles (balloon stickies) and text to write about themselves.
Students will add 4 or more speech bubbles and add information about things they like, things they do, their pets, their friends, and other interesting facts. Students save, share, and / or print.
Grade 1 +
Common Core Standards:
Presentation of Knowledge and Ideas
Make strategic use of digital media and visual displays of data to express information and enhance understanding of presentations.
Production and distribution of Writing
With guidance and support from adults, explore a variety of digital tools to produce and publish writing, including in collaboration with peers.
All About Me - iPad Collage - Finished Example
Students can save their finished assignment to the camera roll and print.
Note: The saved images are a bit small measuring 407px X 640px (actual size shown). These might be good candidates for framing by pasting them onto colored sheets.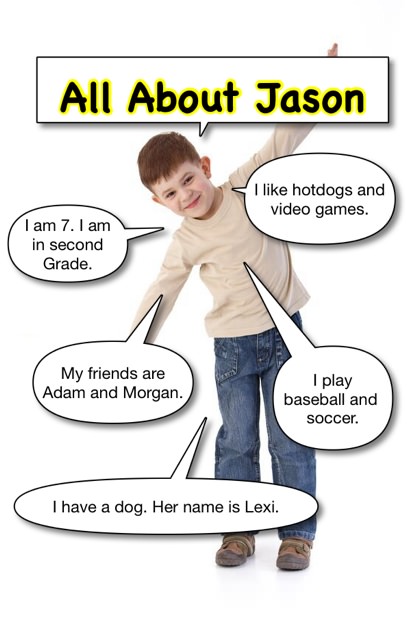 All About Me - iPad Activity - Balloon Stickies - Student Instructions
Download: all-about-me-ipad-activity-balloon-stickies-instructions.docx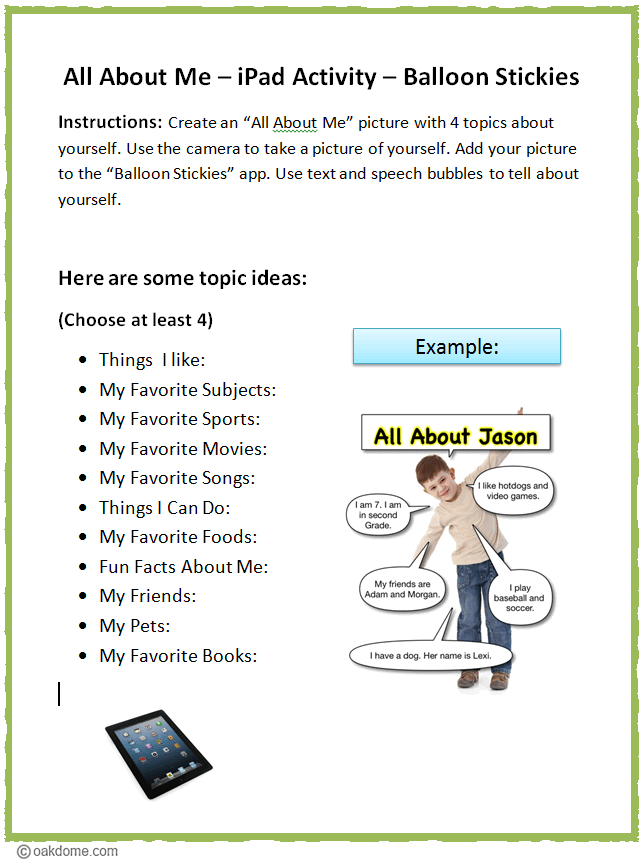 Ideas
for iPads / Mac / iWork