iPad Butterfly Lifecycle Mini Poster
iPad Technology Integration- Butterfly Lifecycle Mini Poster
Teachers integrate technology into the classroom curriculum by having students use the iPad to create a mini poster of the butterfly lifecycle.
Students use the iPad and free "Pic Collage" app to create a mini poster of the butterfly lifecycle.
Young students can quickly and easily find butterfly lifecycle pictures by scanning the QR codes on the handout included below. Scanning the codes will take them directly to websites with butterfly lifecycle pictures. Students can also search the internet to locate additional pictures for their mini poster. Students find and save their chosen pictures to the iPad's camera roll.
Grade 1+
Common Core Standards:
CCSS.ELA-Literacy.CCRA.SL.2
Integrate and evaluate information presented in diverse media and formats, including visually, quantitatively, and orally.
CCSS.ELA-Literacy.CCRA.SL.5
Make strategic use of digital media and visual displays of data to express information and enhance understanding of presentations.
Butterfly Lifecycle Pictures Mini Poster Finished Example:
Students use "Pic Collage" to create the butterfly lifecycle. Students add text boxes, images, and arrows to create their mini poster. Students can find a variety of arrow pictures by searching internet images for "arrows."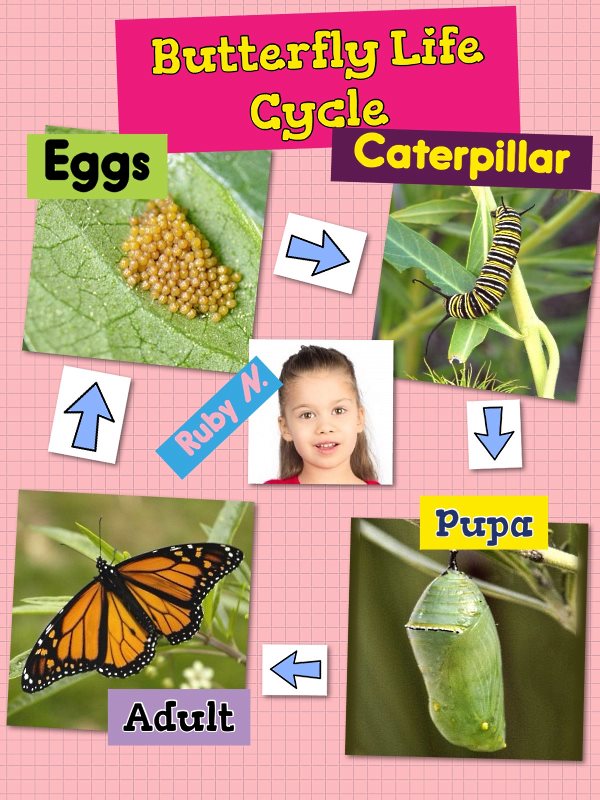 Butterfly Lifecycle Picture QR Codes for Scanning
Teachers print and post this page in class for students to scan with their iPads. Students can use a free or paid QR code scanner to quickly access the websites without having to type in the website's urls. In a hurry? Just project this page as-is on your whiteboard and have students scan the codes from there.
QR Reader by FellowSoftware was the free app used for this project.
Download: butterfly-lifecyle-pictures-qr-website-codes.docx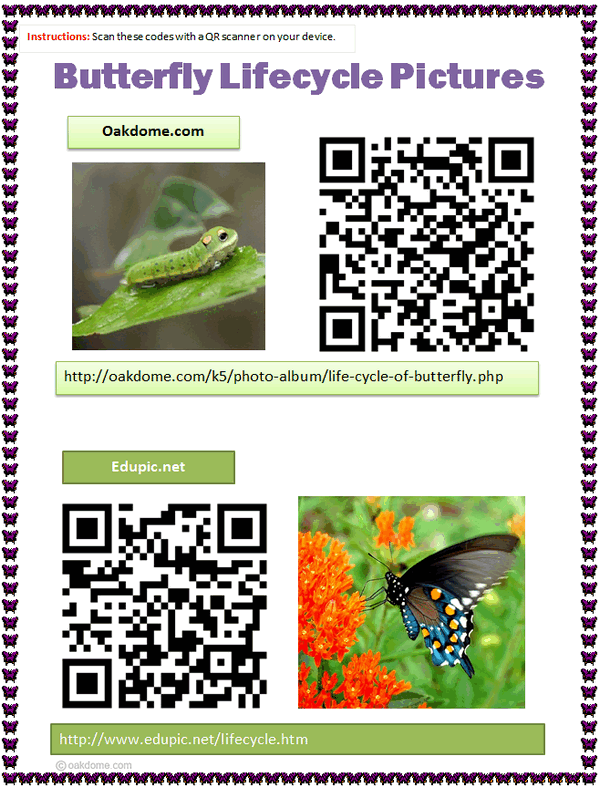 iPad Butterfly Lifecycle Mini Poster Instructions:
Download: ipad-butterfly-lifecycle-mini-poster-instructions.docx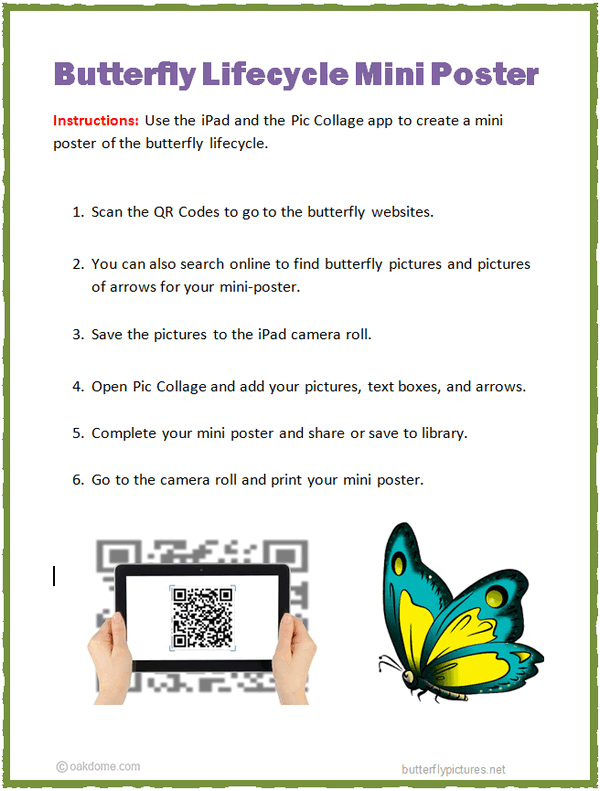 Ideas
for iPads / Mac / iWork