Your Face on Money - (Mac)
Assignment: Students put their faces on fake paper money using Livequartz, a free image editor for Macs. Students download a copy of the fake million dollar bill image and take a headshot picture of themselves with a digital camera or webcam. Students use the eraser in Livequartz to erase the space inside the picture frame of the bill. Students then learn to use the layers feature of Livequartz to add their own headshot into the money.
Download: Simple Image Editing on Mac - Livequartz is a free image editing program for Macs.
Your Face on a Million Dollars Finished Example: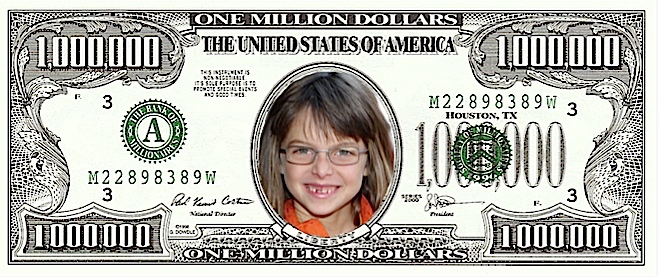 Download Fake Million Dollar Bill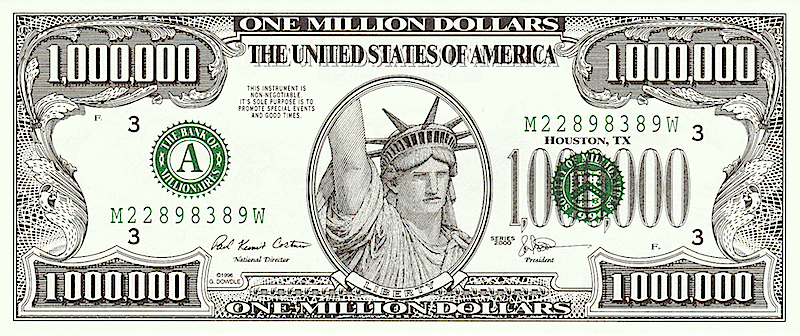 Instructions:
Drag both pictures from the desktop or your image folder into the layers list in Livequartz.

It may be helpful to size your crop and size your headshot in advance of step one. In this example the million dollar bill image has been sized to 800px wide. The headshot has been cropped and sized to approximately 300 x 300 pixels. Both pictures were placed on the desktop and then dragged into the layers list in Livequartz as shown below.

Erase the statue of liberty picture inside the oval picture frame.

To do this correctly, make sure the million dollar bill is on the top of the layers list. Select it for editing by clicking on it in the layer list (blue). Carefully erase the area inside the picture frame with the eraser tool. Use the Select tool and the Scale tool to move and resize the headshot picture as necessary. In the example below, you can see the results of partially erasing the area inside the picture frame on the million dollar bill.

Use the Zoom Slider and Adjust Eraser Size to Erase in Detail

Use the erase brush sizing tool to change eraser sizes as needed. Use the Zoom slider tool to zoom in to erase in greater detail.
Face on Money Finished Result