iPad - All About Me Acrostic
iPad Technology Integration for Literacy - All About Me Acrostic
Teachers integrate technology into the classroom curriculum by having the students use the iPad to create an "All About Me" acrostic.
Students create an "All About Me" acrostic using their name.
Students use the free iPad app Pic Collage to create their acrostic.
Students can save, share and / or print their acrostic.
Grades 2+
Common Core Standards
CCSS.ELA-Literacy.CCRA.W.4
Produce clear and coherent writing in which the development, organization, and style are appropriate to task, purpose, and audience.
CCSS.ELA-Literacy.CCRA.W.5
Develop and strengthen writing as needed by planning, revising, editing, rewriting, or trying a new approach.
CCSS.ELA-Literacy.CCRA.W.6
Use technology, including the Internet, to produce and publish writing and to interact and collaborate with others.
iPad All About Me Acrostic - Finished Example:
Students can find fun letters for their name by using the built in "Photos From Web" function in the Pic Collage app. For example, enter "Letter D" in the search box to find fun pictures of the letter "D". Students find and add all the letters of their name and then add the text boxes to complete the acrostic.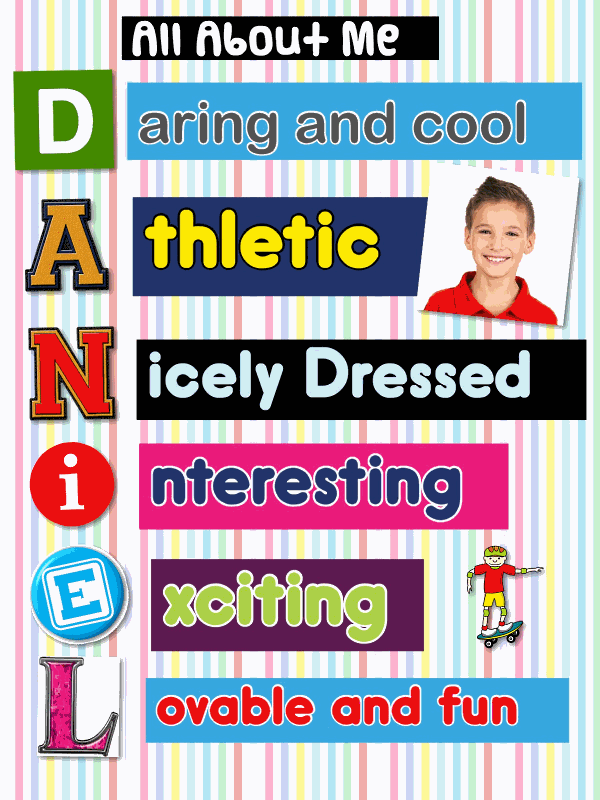 iPad All About Me Acrostic Instructions Handout
Download: ipad-all-about-me-acrostic-instructions-handout.docx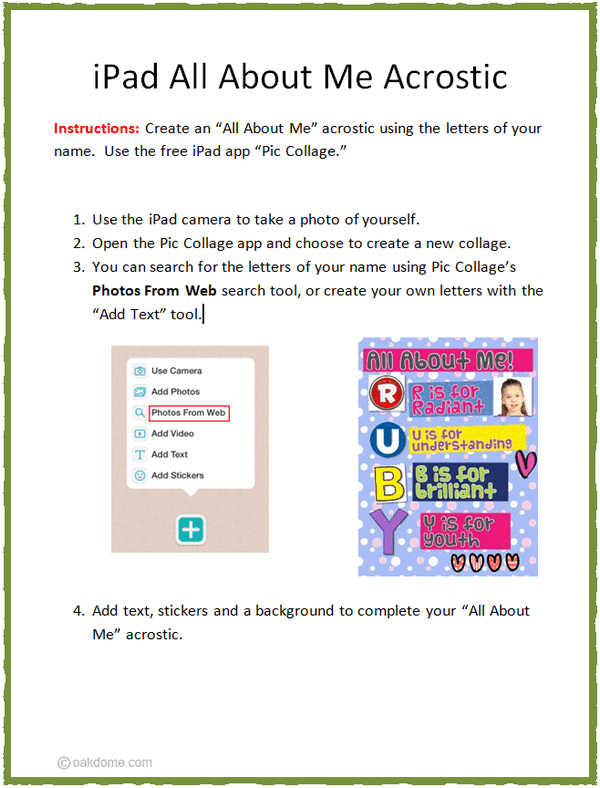 Ideas
for iPads / Mac / iWork