iPad - Character Analysis - Mind Map
iPad - Technology Integration - Character Analysis Mind Map
Students use the iPad app "Popplet" (free or paid version) to identify and describe a character's actions, thoughts,and motivations by creating a mind map.
Students create boxes, "Popples" in the Popplet app to enter text and images. Students add a central Popple box and add the character's name and picture.
Students organize additional Popples around the central Popple to show some of the chosen character's traits.
Students add details and specific examples describing the traits.
Grades 3 +
Common Core Standards
CCSS.ELA-Literacy.RL.3.3
Describe characters in a story (e.g., their traits, motivations, or feelings) and explain how their actions contribute to the sequence of events
CCSS.ELA-Literacy.RL.4.3
Describe in depth a character, setting, or event in a story or drama, drawing on specific details in the text (e.g., a character's thoughts, words, or actions).
iPad Character Analysis Mind Map Finished Example:

iPad - Character Analysis Mind Map Instructions:
Download: ipad-character-analysis-mind-map-popplet-instructions.docx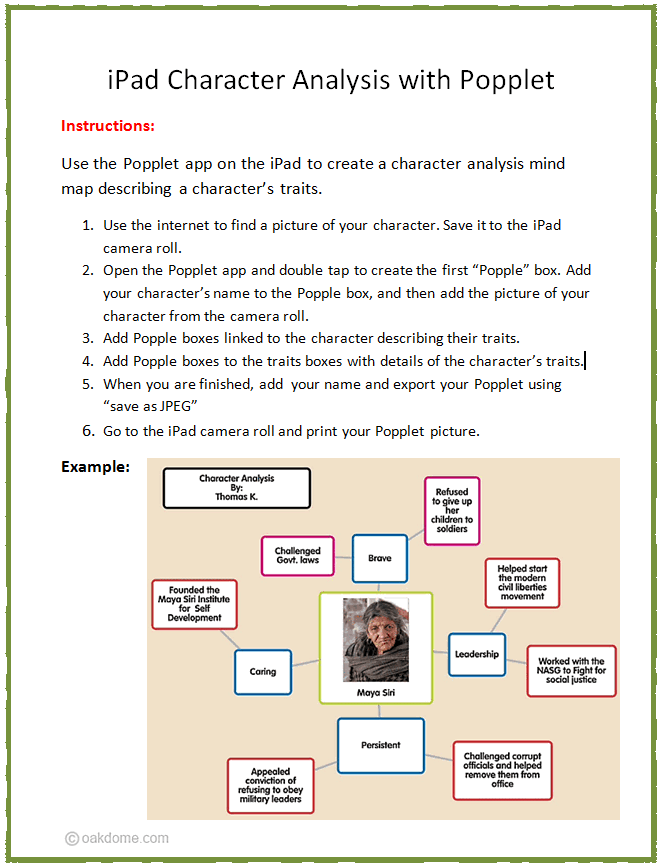 Ideas
for iPads / Mac / iWork