iPad - Biography Summary Comic
iPad Technology Integration for a Biography
Teachers integrate technology into classroom curriculum by having students use the iPad and a comic strip app to create a brief biography.
This activity can be a stand alone assignment or a supplement to a larger assignment.
Student use an image of their person as well as key facts and details to create the comic.
The iPad app used here is Strip Designer by Vivid Apps, but similar comic apps may work for this activity as well.
Grade 2 +
Common Core Standards
CCSS.ELA-Literacy.CCRA.W.4
Produce clear and coherent writing in which the development, organization, and style are appropriate to task, purpose, and audience.
CCSS.ELA-Literacy.CCRA.W.5
Develop and strengthen writing as needed by planning, revising, editing, rewriting, or trying a new approach.
CCSS.ELA-Literacy.CCRA.W.6
Use technology, including the Internet, to produce and publish writing and to interact and collaborate with others.
iPad Biography Summary Comic - Finished Example:
Students add a title, image, and multiple speech bubbles to create their comic.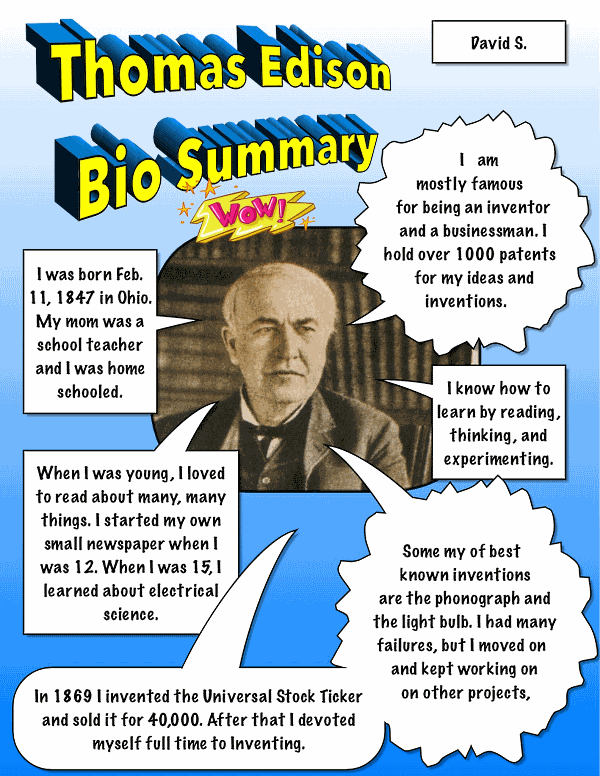 iPad Biography Summary Comic Instructions
Download: ipad-biography-summary-comic-instructions-handout.docx
Ideas
for iPads / Mac / iWork