Quick iPad File Sharing with QR Codes
Distribute Files to Students Quickly and Easily
Teachers can place files for students in a shared online folder. Students can scan a QR code with their iPads to access, download, and use the shared files. Distributing files to students using iPads doesn't have to be an obstacle course.
By using QR codes, even young students can have access to files you share without signups, usernames, passwords, secret codes, or other hassles. Using this simple method, only teachers need an online storage account.
A QR code is a type of barcode that can have information like a website URL encoded into it. Teachers can share files by having students scan a QR code that has the web address of their shared online folder.
When students scan the code with their iPad or other internet connected mobile device, the code will take them straight to the shared folder where they can download and open the files.
Grades K-12 +
Shared Folder Usage Ideas:
Take a picture of a page in a book and put it in the shared folder for the students to read or study for discussion. Add a picture of a skeleton for students to diagram. Share graphic organizer templates for reading comprehension and writing literacy assignments. Take a picture of the homework assignment for the week and put that in there. Put a school calendar in there too. You could share the class folder link or QR code sheet for parents to view or access files.
Add images of your students' classwork, projects, and field trips. Put PowerPoints or Keynote presentations about butterfly lifecycles, animal homes, rock cycles, geography, math lessons, vocabulary word practice, etc. Take a picture of your whiteboard lesson work and put that in there for student review. Get the idea? Use your imagination and teaching skills to provide educational content that can be accessed in and out of school for anytime learning.
How to Setup Quick iPad File Sharing with QR Codes
This is a one time setup process. After it is setup and working as expected, you simply post sheets of the QR codes for students to use and then add or subract files from your shared folder.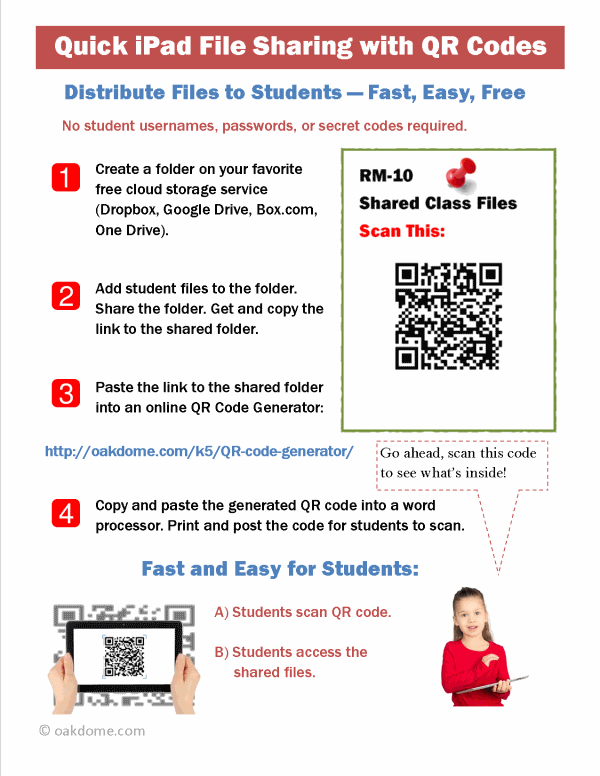 Setup Example using Dropbox:
Here is how I setup my account. You can add more folders and share them separately for different classes to access as needed. In this example, I am sharing the RM-10 Shared Files (Sample) folder.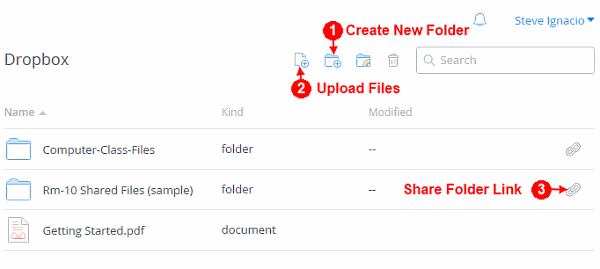 Generating the QR Code:
Once I have the shared link from Dropbox in step three, I just paste the link into the QR Code Generator, choose a QR size and click the Generate the Code button. After that, just right click and copy the QR Code square and then paste it into a word processor for printing.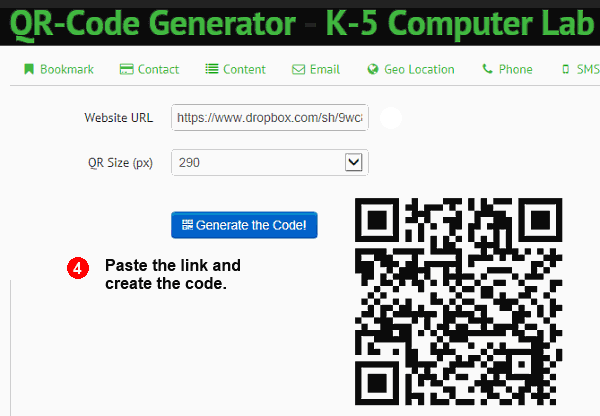 Could Students Send Files Back to You?
If you use Dropbox or Box.com as your online cloud storage service, it's possible for students to send files directly back to your account using a single shared email address. For Dropbox, there is a free email service called "Send to Dropbox". Box.com has the "email files to folder" feature baked right in. Both services will provide you with an email address that you can share with your students. They can use that address to send files directly to your storage account. Have the students put the email address in the iPad's contact list and it will be simple for them to send files to your account from that point forward. Here is a tutorial infographic on using Dropbox as a more complete file sharing solution between teachers and students.
Students Will Figure This Out Quickly
Students, even the youngest ones will figure out how to use the QR code scanner to access your files. Opening and using the files in other apps may take a few tries, but be assured, kids can do this and they will figure it out quickly. Give the students a chance to practice.
Notice! Open in Safari Browser
Students should open files in SAFARI. There are many QR apps, and they may open web sites using their own simple browser. If that happens, find the box with the up arrow at the top of the ipad screen or a button or link on your QR app that allows you to open in SAFARI.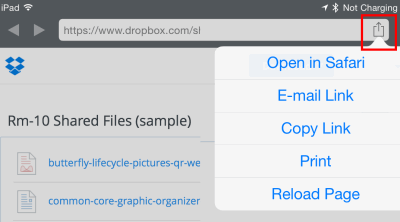 I haved used the free QRafter code reader app, and that has a button that says "Open in Safari" so it's pretty easy for students. I have also used the free "QR Code Reader" by Scan inc. and it requires you to open SAFARI using the box with the up arrow at the top left of the screen. Your students' QR code apps may be different so if anyone has problems accessing or opening your files, be sure they in the Safari app when accessing and opening your files.
Once you are in Safari, you can choose the apps you need for the files you want to open:
if you are in Safari, but you don't see the "Open in... menu, tap your finger in the area shown below in the red rectangle, then the "Open in... menu appears. In this example I am opening an "all-about-me.pages" graphic organizer template, so I would choose to open in the "Pages" app.
If students are opening picture files, then they can simply open in Safari and then press and hold one finger on the image and then choose to save it to the camera roll.
Example Shared Folder with Files on Dropbox
I have shared a folder on Dropbox with files in it that you can test.
Scan this code and see how it works. Practice opening the various files and folders.
Generate your own QR Codes: https://oakdome.com/k5/QR-code-generator/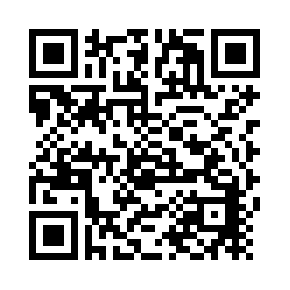 Use this referral link to get 500MB of free bonus space when you join and install Dropbox on your computer. This space can come in handy for extra image and video storage.
We both get bonus space, though I already have multiple cloud storage accounts and plenty of free space. Once you sign up, you can get even more space, up to 16GB on your free account when you refer your friends. They will also get bonus space using your referral.
The requirement is that you need to install Dropbox on your computer in order to get the bonus space. That's normally how I use Dropbox at work and home. Files I put in my Dropbox folders at home are available on my work computer, my iPad, and vice versa. Dropbox keeps everything synchronized. Join Dropbox Here:
Ideas
for iPads / Mac / iWork