Quick iPad File Sharing with QR Codes
Distribute Files to Students Quickly and Easily
Teachers can place files for students in a shared online folder. Students can scan a QR code with their iPads to easily access, download, and use the shared files. Distributing files to students using iPads doesn't have to be an obstacle course.
By using QR codes, even younger students can have quick access to files you share without signups, usernames, passwords, secret codes, or other hassles. Using this simple method, only teachers need an online storage account.
A QR code is a type of barcode that can have information like a website URL encoded into it. Teachers can share files by having students scan a QR code that has the web address of their shared online folder.
Shared Folder Usage Ideas:
Take a picture of a page in a book and put it in the shared folder for the students to read or study for discussion. Add a picture of a skeleton for students to diagram. Share graphic organizer templates for reading comprehension and writing literacy assignments. Take a picture of the homework assignment for the week and put that in there. Put a school calendar in there too. You could share the class folder link or QR code sheet for parents to view or access files.
How to Setup Quick iPad File Sharing with QR Codes
This is a one time setup process. After it is setup and working as expected, you simply post or email sheets of the QR codes for students to use and then add or subract files from your shared folder.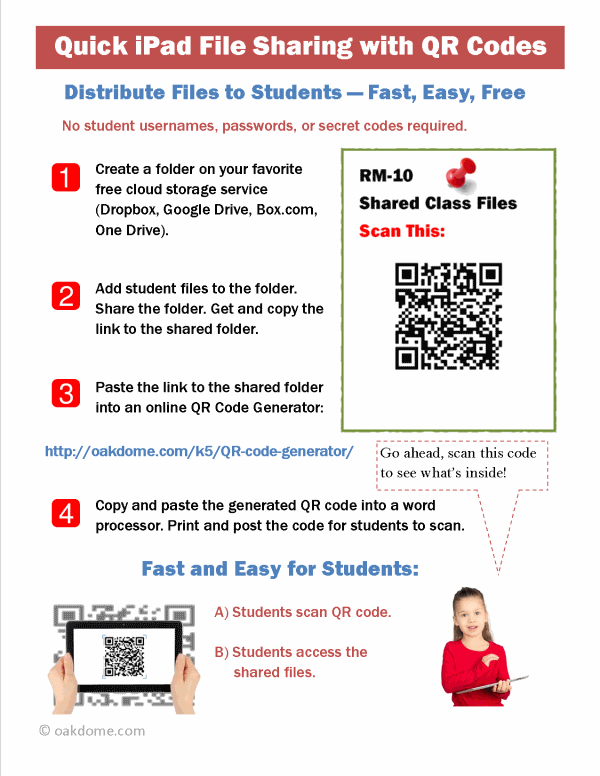 Download: quick-ipad-file-sharing-with-qr-codes-instructions.pdf
Setup Example using Dropbox:
Here is how I setup my account. You can add more folders and share them separately for different classes to access as needed. In this example, I am sharing the RM-10 Shared Files (Sample) folder.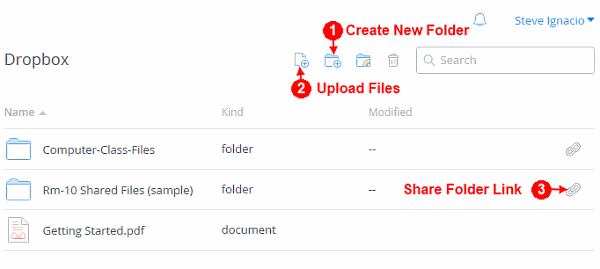 Generating the QR Code:
Once I have the shared link from Dropbox in step three, I just paste the link into the QR Code Generator and click the Generate the Code button. After that, just right click and copy the QR Code square and then paste it into a word processor for printing or emailing.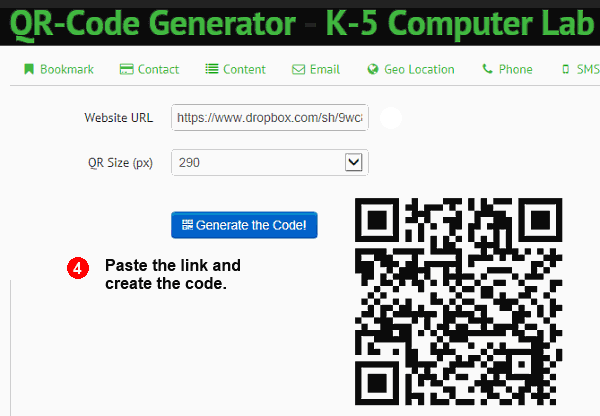 Could Students Send Files Back to You?
If you use Dropbox or Box.com as your online cloud storage service, it's possible for students to send files directly back to your account using a single shared email address. For Dropbox, there is a free email service called "Send to Dropbox". Box.com has the "email files to folder" feature baked right in. Both services will provide you with an email address that you can share with your students. They can use that address to send files directly to your storage account. Have the students put the email address in the iPad's contact list and it will be simple for them to send files to your account from that point forward.
Students will Figure this out Quickly
Students, even the youngest ones will figure out how to use the QR code scanner to access your files. Opening and using the files in other apps may take a few tries, but be assured, kids can do this and they will figure it out quickly. Give the students a chance to practice.
Example Shared Folder with Files on Dropbox
I have shared a folder on Dropbox with files in it that you can test. Scan this code and see how it works. Practice opening the various files and folders.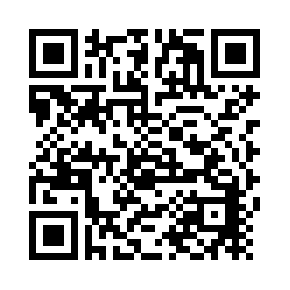 Generate your own QR codes: https://oakdome.com/k5/QR-code-generator/