Google Classroom - Clothes Shopping Budget
Students Create a Basic Budget Spreadsheet with Chart
Scenario:Students shop online to select clothing to donate to a needy child using the Clothes Shopping List as a guide. Students should select as many items as they can for one girl or boy without going over $200. Students enter their chosen items and costs into a spreadsheet. 
Assignment: Students create a spreadsheet using Google Sheets to show how much they have spent on clothing. Students use the SUM function to calculate the total expenses. Students use a simple formula to calculate money left over (allowance - total expenses). Students create a lovely chart illustrating their expenses.
Grades 4+
Usage: Teachers download the files and make personal copies for themselves, then share the files with students as needed using Google Classroom or a Google Drive shared folder.
Download: google-sheets-clothes-shopping-budget-spreadsheet-template
Download: google-sheets-clothes-shopping-budget-spreadsheet-finished-example
Download: google-sheets-online-clothes-shopping-budget-student-instructions
Download: google-classroom-clothes-shopping-list
Google Sheets - Clothes Shopping Budget Template
Download and share this Google Sheets template with students. Students enter their own title and spreadsheet data. Students create a chart using their data. Students add a relevant picture. Students can format text and colors to suit their preference.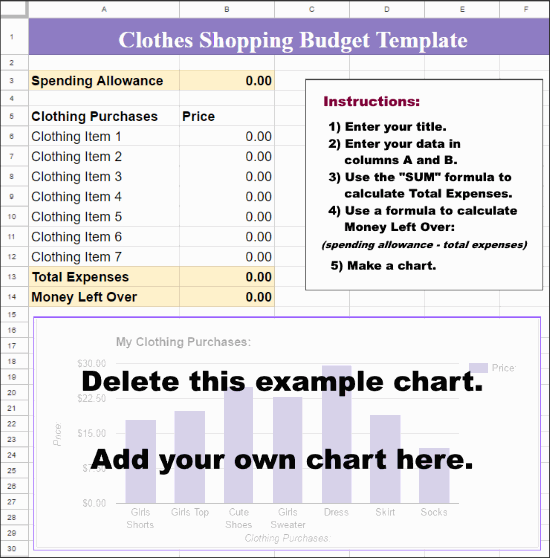 Google Sheets - Clothes Shopping Budget - Finished Example:
A finished copy for teachers to download and use.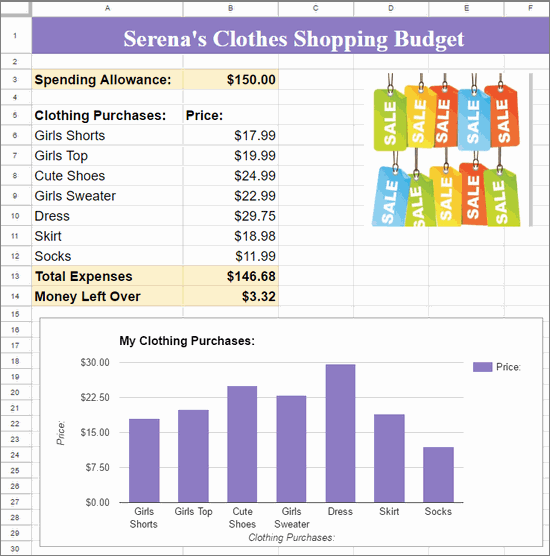 Student Instructions: Google Sheets - Budget with Chart
Download and make these assignment instructions available to students to guide their Google spreadsheets creations.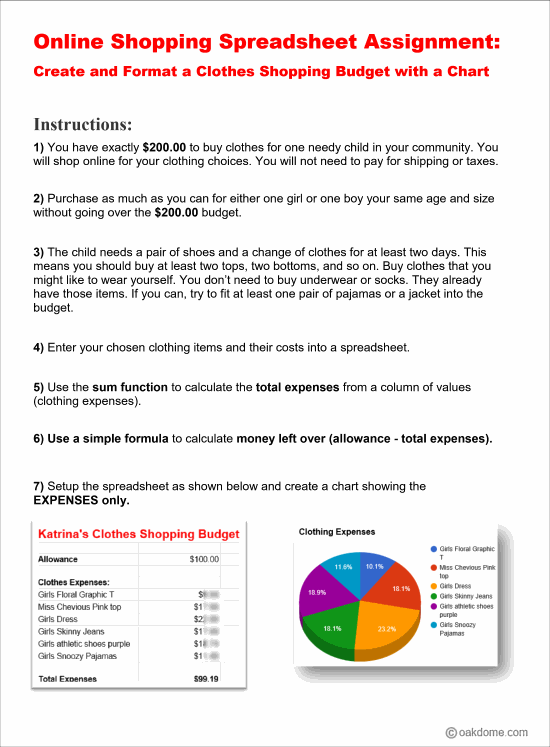 Google Classroom - Clothes Shopping List:
Download and share this price list with students.
Students can use the items on this list to guide their clothes shopping selections.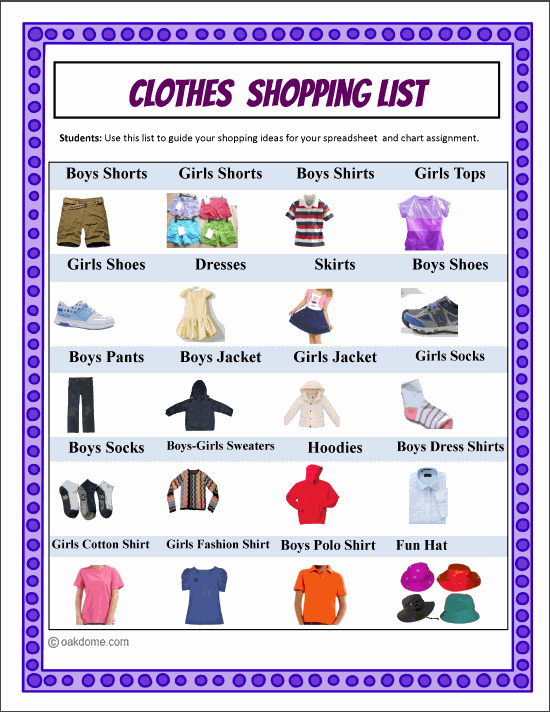 Google Sheets Budget Spreadsheet with Chart Tutorial
Learn how to create a simple google budget spreadsheet with a chart. This video covers the basics of entering and formatting a chart title, entering data, using simple formulas and creating a chart.
Time to Learn = 4 minutes