Would You Rather... Questions for Kids
32 Would You Rather Questions with
Task Cards and QR Codes
This is a great getting to know you activity. Fun for all ages.
Download: 32-clean-would-you-rather-questions-with-qr-codes-for-kids.pdf
This can also be used for class discussions, developing critical thinking skills, compare and contrast, persuasive writing prompts, getting creative thought processess going, and more. Kids love these.
The questions are fun, silly, serious, and thought provoking. Students choose a task card and scan the code with QR code reader using an iPad or other device.
Download: 36 More Would You Rather Questions for Kids
How to Use:
Print, laminate, and cut out these task cards. There are 8 pages with 32 task cards included. Ideas: Have students pull one out of hat or bag and then scan the code. Use for class discussion starters, place these around the room, around the school, pair students and have them choose opposite sides for debate / compare and contrast.
Use for writing prompts and journals. Maybe use a few task cards, ask the questions, get a show of hands and collect the data for graphing in a spreadsheet with a chart.
32 Would You Rather...Questions for Kids
These are the questions on the QR code task cards.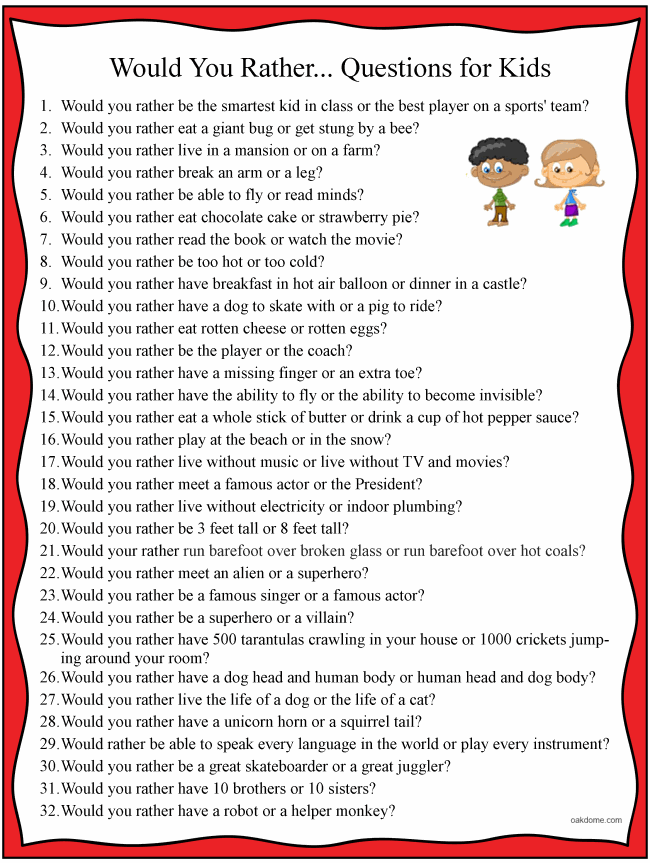 Would You Rather...
Task Cards with QR Codes Example: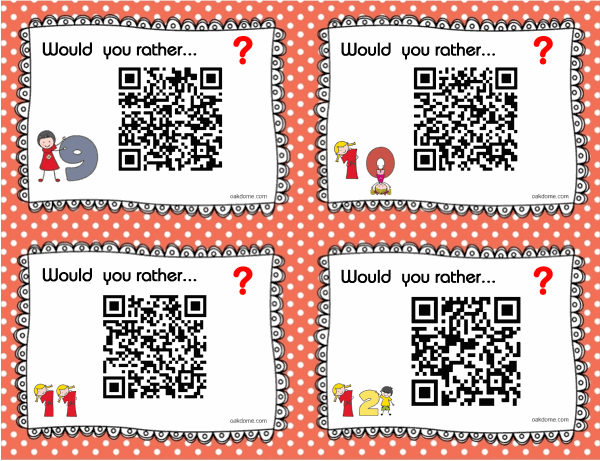 Want 36 More Clean
Would You Rather...Questions for Kids?
Here are 36 more "Would You Rather..." clean questions for kids to keep the fun going!