Digital Art for Earth Science
Students Draw a Season on the Ipad
Students Engage in Earth Science through Digital Art
Students use a free or paid drawing / coloring app on the iPad to illustrate one of the seasons. Students demonstrate their understanding of the elements of different seasons. Students use available drawing tools, colors, stamps, or stickers to create their own printable pictures. Students can save, share, and or print their work.
Distance Learning: Students with iPads could draw their chosen season and send the finished picture digitally for teacher review.
Drawing Pad, a low cost digital art app was used by this student to create her drawing of Spring. This richly featured app has paint brushes, colored pencils, crayons, markers, chalk, stamps / stickers, text, a variety of textures, the ability to add background colors or images, and more. Drawing Pad allows students to print, save to the camera roll, send to email and social media, as well as save to the Drawing Pad album.
Spring by Ariel R. 3rd grade.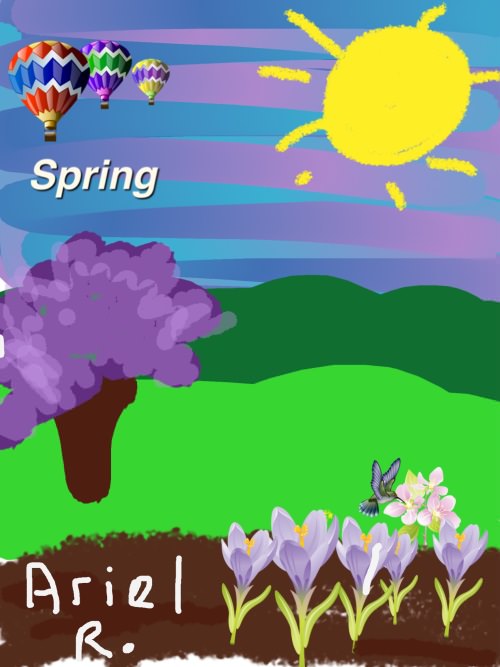 This drawing of Summer was done by a student using the free version of Hello! Crayon. Students with iPads may have their own coloring and drawing pograms already installed. There are many, many free and paid programs in the app stores.
Summer by R.D. 3rd grade.