iWork Number - M & M Pie Chart
Students use iWork numbers to create an M & M Chart.
Students learn to create a simple pie graph to represent numerical values in a spreadsheet using iWorks Numbers.
Students will learn to enter labels (colors) and values (numbers) into cells.
Students will learn how to select the data they have entered and choose a pie chart to display the results.
Students will learn to create a title for their graph data with their name (Kyla's M & M Chart).
Students will learn to format the data and pie chart pieces for better visual appeal using larger fonts and appropriate colors.
Follow these instructions to create an M & M chart in iWork Numbers:
1) Enter the color data into column A starting in cell A.
2) Enter the quantities into column B starting in cell B3.
3) Click in cell A3 and drag across to cell B3 then down to cell B7.
4) Create a pie graph. Menu > Charts > Pie. Click and drag the graph to desired position.
5) Click the title text box and enter a title (Kyla's M & M Chart).
6) Format the text and number values to a larger size with the formatting toolbar (size 18).
7) Click the Colors button and click, drag and drop the correct colors to the individual pieces as shown below:
8) Print.
Click, Drag and Drop Colors to Pie Pieces: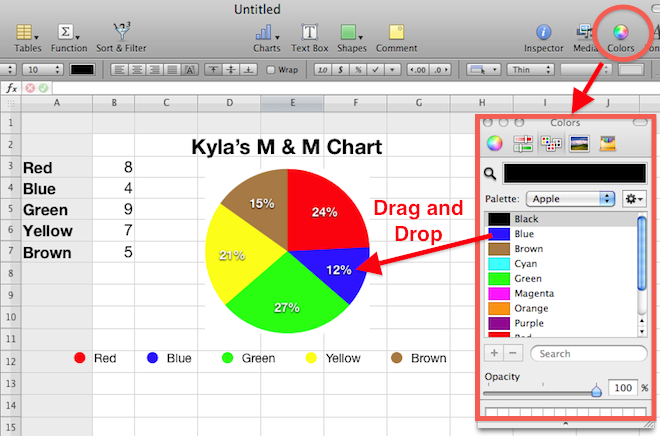 Finished M & M Pie Graph Example: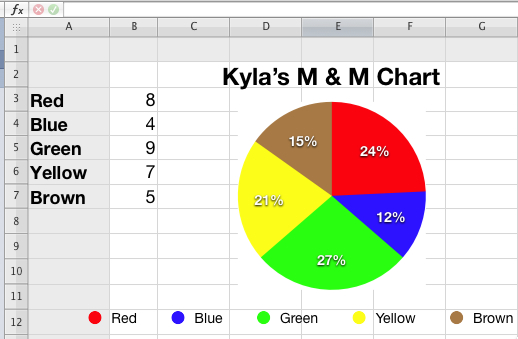 Alternate M & M Pie Chart for Black and White Printing:
This version is formatted for printing without color. Students may color the individual pie pieces by hand.
Students should follow the steps presented above for dragging the color white to the pie pieces. Give each pie piece a dark outline border by using the Stroke, point size, and color options as shown below.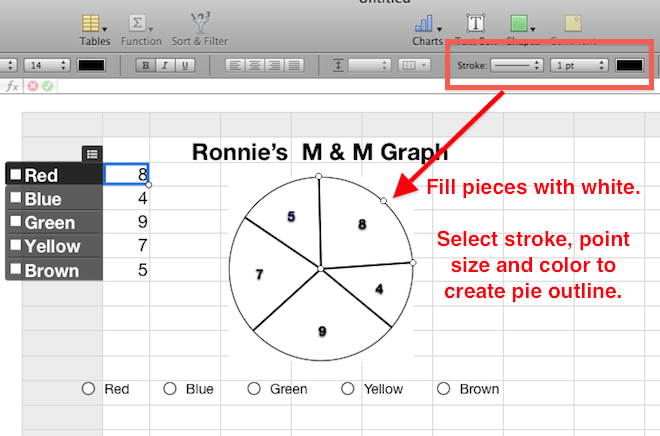 Popular:
For PC's and Microsoft Office