Excel Lesson Plan- Make Your First Chart
This Excel Lesson Plan Teaches Beginning Excel Users to Enter Data and Create a Simple Chart.
The instructions are for Microsoft Excel 2007 - 2013 version, but the data and chart can be recreated using any of the various Excel versions or even non Microsoft variants.
I have used this successfully with 2nd and 3rd graders, but your mileage may vary.
When printing the excel chart, be sure to have the students use print preview to check the proper positioning of the chart and data on a single page before printing.
Grades 2+
How to Create Your First Chart - Video Tutorial = 25 Seconds:
Excel Tutorial:
Use this mini excel tutorial to guide your students in entering the data and creating the chart.

Excel Vocabulary Words:
Spreadsheets, Cells, Rows, Columns, Labels, Values.
Instructions:
Type your title "Caleb's Party Food Chart" in Cell B1, then Enter.


Add the party food data in Column A cells.


Add the quantities in Column B cells.


Select (highlight) the food labels and number values in columns A and B.


On the Insert menu tab select bar chart, choose 2 D bar.


Double click the chart and then choose "chart layouts" on the ribbon. Choose a chart layout.


Adjust the chart position if necessary and then Print.
Excel Tutorial Your First Chart - Printable Instructions:
Download: excel-tutorial-your-first-chart-instructions.pdf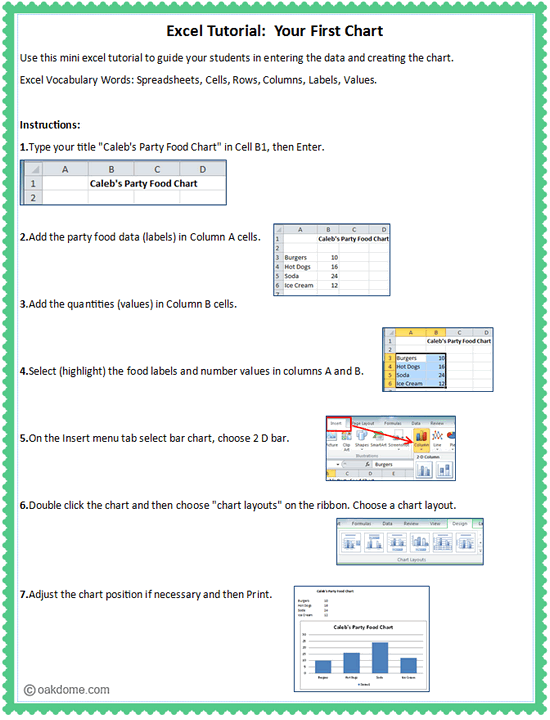 Finished Excel Chart: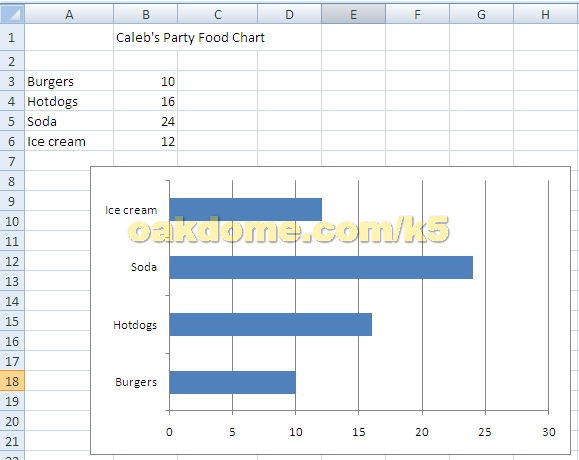 For PC's and Microsoft Office
Excel Bar Chart
Excel Clothes
Expenses Chart
Green Screen
Photo Edting
Magic Wand
Photo Editing
California Regions
Brochure
Amazing Animals
PowerPoint
I am Poem Generator
Pivot Animator
Learn PowerPoint
in One Minute
Copy and Paste
Practice
M&M Chart
Newspaper Template