Food Web Energy Pyramid Lesson Plan
Students Create Their Own Food Web Energy Pyramid
Students use a PowerPoint template to create an energy pyramid. Students choose a food web from any world ecosystem and use the internet to locate several images of producers and consumers. Students use textboxes or wordart to label the various levels of the energy pyramid from producers, to primary consumers, secondary consumers and tertiary consumers. Students insert or paste images into the energy pyramid at the appropriate levels.
Grade 4 and up
Food Web Energy Pyramid Finished Example:
Students use a PowerPoint template to create their own food web energy pyramid. Students label the pyramid and insert images representing the organisms in the various levels.

Food Web Energy Pyramid PowerPoint Template for Students
Students use this PowerPoint template to organize their energy pyramid creation. Students insert text boxes and / or use wordart to label the pyramid levels. Students insert or copy and paste their own images into the appropriate levels of the pyramid.
Students can print their finished pyramid slides or save the slides as images for use in screensavers, slideshows, blogs, websites, etc.
Download: food-web-energy-pyramid-template.pptx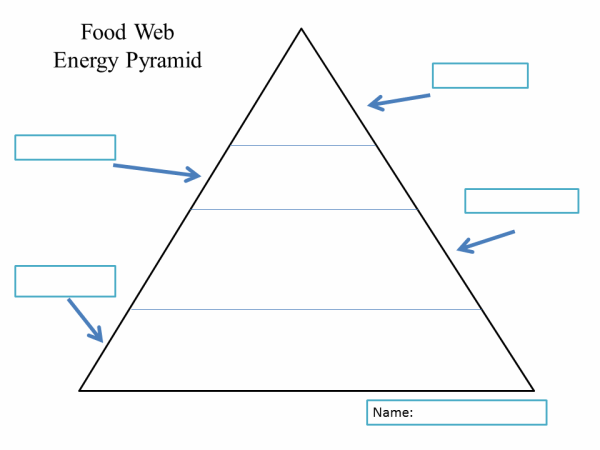 For PC's and Microsoft Office
Excel Bar Chart
Excel Clothes
Expenses Chart
Green Screen
Photo Edting
Magic Wand
Photo Editing
California Regions
Brochure
Amazing Animals
PowerPoint
I am Poem Generator
Pivot Animator
Learn PowerPoint
in One Minute
Copy and Paste
Practice
M&M Chart
Newspaper Template